DIGITAL SOLUTIONS BY STILL
Keep it simple and smart

As one of the most important megatrends of our time, digital transformation is changing the way we live and work. It opens the door to completely new ways of creating value. This applies in particular to intralogistics: new business models, ground breaking products and services, flexibly automated processes and complex networked systems revolutionise the intralogistics playing field.
No doubt: anyone who wants to make the pace in a rapidly changing market has to master a multitude of new challenges at the same time. In such times, it is good to know a strong partner by your side: In a time of ever faster progress, STILL supports you as an experienced pioneer of intralogistics digitisation. On the transition to Logistics 4.0 we lead the way together with you.
---
Digital fleetmanagement
Efficiency at the touch of a button
Digital fleet management enables you to monitor, analyse and optimise your entire fleet in real time. It offers you a central overview of all relevant vehicle data - at any time, from anywhere and on any end-user device.
Discover potential savings, control service dates, overview operating times: All important information is made available with the appropriate software tools at the push of a button and is quickly comprehensible thanks to visual presentations. This way, digital fleet management makes it easier for you to make the right decisions.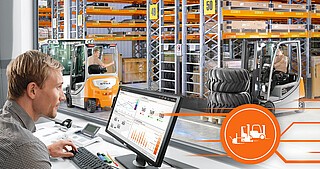 ---
Digital assistance systems
Making the work simply better
Driver assistance systems are digital helpers that assist the driver in certain situations. The technological progress of recent years has opened up a multitude of new possibilities for such systems, which is why they are becoming increasingly widespread.
Assistance systems record relevant vehicle data coming in from a number of different sensors. On the one hand, they provide the operator with useful information on this basis, and on the other they control and extend the functionality of industrial trucks. In this way, they make work easier, more efficient and safer, making them an important key to fast transports and safe processes.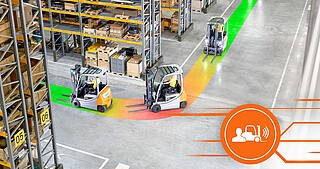 Smart assistance systems by STILL
STILL assistance systems are the nervous system of the digital intelligence of our industrial trucks. Benefit from greater efficiency, more safety and a notable reduction in workload.
Our assistance systems automatically reduce the driving speed to safety limits, stop mast vibrations, monitor the possible lift height depending on the load weight or level uneven ground by dynamically adjusting the chassis in milliseconds. And that is only a fraction of what they are able to do.
---
Automation
Process safety meets efficiency
Automating manual goods transports promises several advantages. These include, for example, permanently safe and efficient work processes as well as a constant high flow of goods, if required, around the clock. Depending on requirements, individual process steps, subsections or the entire flow of materials from goods receipt to goods dispatch can be automated.
Technological progress now also enables autonomous solutions. Your additional advantage over automation: The industrial trucks will not need to be taught actual warehouse design anymore. Instead, autonomous vehicles recognize their environment independently and react dynamically - even when it changes.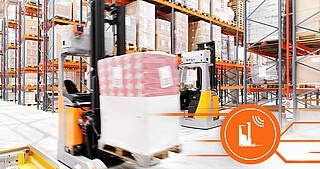 ---
STILL automation solutions:
Flexibility once, efficiency twice
Every day, our engineers and developers put their heart and soul into pushing the boundaries of what is possible with automation solutions. Their mission: to set new benchmarks in our customers' production environments and logistics centres in terms of user-friendly flexibility, maximum security and unparalleled efficiency.
Innovations like the STILL iGo neo CX 20 - the world's first autonomous order picker - show what professional passion and know-how grown over the years can move.
---
Use Cases
Digital solutions in practice. Discover our success stories.
---
Consultation to the point
Would you like to exploit your potential of digital solutions? We consult you specifically to your situation. Just contact us and we will take care of your request.